Highlighting Mental Health Awareness

NAMI Releases New Crisis Guide
NAMI is proud to release "Navigating a Mental Health Crisis: A NAMI Resource Guide for Those Experiencing a Mental Health Emergency." NAMI developed this guide to support people experiencing mental health crises and their loved ones.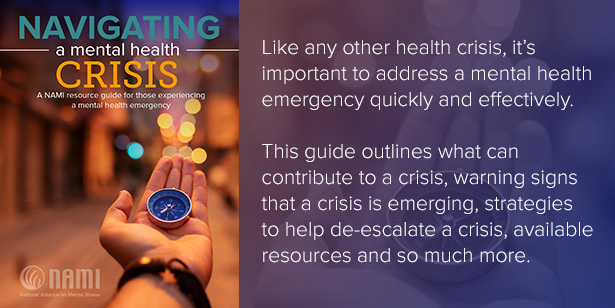 This potentially life-saving guide outlines what can contribute to a crisis, warning signs that a crisis is emerging, strategies to help de-escalate a crisis and resources available for those affected. Also included is information about advocating for a person in crisis along with a sample crisis plan.
  <<READ MORE AND DOWNLOAD THIS 33 PAGE FREE GUIDE>>  ...Additionally there are 5 very informative infographics to download if you scroll all the way down to the bottom of this linked page.